The Tactile Times Newspaper
Issue Number 5
September 2021
TTN TTN TTN TTN TTN TTN TTN TTN TTN
Welcome to the 5th edition of the Tactile Times!
We are Ellie, Lexy and Theo, three young braillists who thought it would be fun to put together a way for children and young people who are braillists, to share news, event information, tips, opinions and ideas. We hope you like it.
We are really excited about the Tactile Times being a way for more and more of us braillists to keep each other up to date, so if you know someone else who might like to get a copy too, let us know! To find out more about the Tactile Times and why we set it up, visit https://tactiletimes.org/about
Thankyou to everyone that sent in articles, ideas and other contributions for this issue. We would love to include even more articles from our readers in the next issue! If there is something you really enjoy doing, or a place you had a good time visiting, why not write a short article about it for the Tactile Times? Or submit your favourite joke or recipe. You can find more ideas for what to contribute and some accessibility tips at https://tactiletimes.org/contribute
We have a lot to share with you in this issue. From breaking news and upcoming events, to a delicious cupcake recipe and some exciting new games, there is bound to be something in this issue that you will enjoy.
Some navigation tips: We have put a line of 10 +'s between sections and == before each article so you can search for == to find the beginning of articles and +'s to find sections. This method is most useful on the Touch as it has no way to navigate by headings. Each section heading is also numbered so you can search for the number of a section followed by a full-stop to find that section.
We have also put headings in for sections and articles:
Heading 1: Title at the top of the document
Heading 2: Sections and contents page
Heading 3: Article titles
Heading 4: Article sections (not used in every article)
++++++++++
Contents
Tap on a section below to jump straight to it. On a computer with JAWS you may need to use the Open hyperlink option in the Context menu (Shift+F10).
++++++++++
1. News
Guide Dogs have launched a 'Tech for All' scheme. This offer free iPads for children aged 3 – 18, with secondary age children (11 – 18) allowed to choose an iPhone instead. You can find more details on: https://www.guidedogs.org.uk/getting-support/help-for-children-and-families/living-independently/assistive-technology-for-children/
Lucy Bevan Casting (who made 'Cruella,' and 'Beauty and the Beast' is looking for a VI/Blind Caucasian girl, aged 6 – 16, for a speaking part in an upcoming Netflix limited TV series, which will be filming in 2022 in Europe. No acting experience necessary. You can get more details from: [email protected].
iOS 15 is being released to the public on 20th September, but you should check out this extensive list of all the current accessibility bugs to help you decide whether you should update or not, as otherwise you might be hit with a few nasty surprises when you update.
Find the list here: https://www.applevis.com/blog/accessibility-bugs-introduced-and-resolved-ios-15-and-ipados-15-blind-and-low-vision-users
Four new Shortform words have been added to the Unified English Braille (UEB) Rules. You can find them on the website of the International Council for English Braille (ICEB), which is: www.iceb.org.
The winners of the 2021 Holman Prize were announced on 19th August. Each of the three winners will receive $25,000 for their project which will, "challenge misperceptions about blindness worldwide." Details are on: https://holman.lighthouse-sf.org
There were lots of great stories about blind athletes at the Tokyo Paralympics. Here are two:
++++++++++
2. Fun Things we did
A few of us went on the New College Worcester (NCW) Activity Break. Here's what we thought:
== NCW Summer Activity break, by Zarie
The summer break at NCW allows young children to meet others and make friends with other children who have the same or similar issues to them given having no or little vision. I enjoyed baking, the pizza night and the barbecue. The best parts were the swimming and tandem riding. I thought these were very much suited for the hot weather in the summer. I loved a cool down in the pool.
I did not think there were a wide variety of lunches and did not enjoy them much. There were mainly wraps and sandwiches, which I thought weren't very healthy and, as I don't like these foods very much, I didn't think it was very fair that there weren't other options. I did however enjoy the breakfast. The toast was great and a wide variety of things to put on toast were offered. I thought there were far too many sports activities, and since I don't like sport very much I did not enjoy this too much. I think the summer break should have more musical and creative activities. I was also far too tired to do so much sport and active things. I think that more breaks should have been offered. I shared a room with someone which helped me get to know someone else with a visual impairment as I was staying with them.
I would recommend the Activity Break to someone who is very active and needs some entertainment, perhaps someone who doesn't have many friends or whose parents are very boring or too busy to spend time with them. I would also recommend this to someone who wants to meet new people and make more friends. I would not recommend this to someone who does not want to participate in activities or who is very lazy. It is a great way for people to also build their confidence and social skills. Staying away from home was a challenge for me, but it can be done with so much support from helpful staff and other children.
Written by Zarie Kunst-Khan
== NCW Summer activity break, by Theo
I went to a Summer activity break at NCW this year. It was an exciting experience for me because I haven't done anything like it for a long time due to Covid.
Everyone was required to take a Covid test before they were allowed in. This made me feel confident about the fact that no-one had Covid.
My best bits
• Water sports - There was a trip on a mini bus to a huge lake where I did stand-up paddleboarding and kayaking. This was very exciting and it was the first time I did stand-up paddleboarding.
• The open mic - It was lovely to hear everyone's talents and to perform in front of an audience again.
The not so good bits
• No tech sessions - Sadly, there were no sessions about tech. I would have liked to have some sessions about technology or a drop-in in the evening.
• Very small lunches – I mentioned this last time, and sadly nothing much has changed. They still only give you one sandwich for lunch. At least there were some vegetables this time.
Some top tips
• Orientate yourself - It was very important for me to orientate myself with my new setup (room, bathroom, toilet, etc...). It really helps to do this before your first night so you know where things are.
• Leave time to rest - These camps are exciting but busy, so it is essential to leave some time in the evening to rest/calm down before going to sleep.
I would definitely recommend this camp to anyone looking for an opportunity to take the next step towards their independence and have lots of fun along the way.
Written by Theo Holroyd
== NCW Activity break, by Alex
We asked a couple of other people who attended the break their best and worst part of it, a top tip for anyone who was attending it next year, and whether they would recommend it to other braillists. Here are the results:
My best bits for the NCW summer camp was most of the activities during the day and the bingo evening, and my worst bits of the camp I would say the swimming as I'm not a fan of swimming at all. Also, there an occasion when another camper kept shouting and trying to touch me and my friend, which I didn't like much. My top tip for the trip would be to make friends during the icebreakers and to have fun and I would recommend to go especially if the trip was a bit longer.
Written by Alex Day
== NCW Activity break, by Chloe
The best part of NCW for me was making lots of new VI friends. The worst part was doing the independent living skills which I found very annoying. My top tip would be to talk to as many people as possible, and I would definitely go back.
Written by Chloe Ring
Did you know that the NCW activity break for 2022 is already open for registration? Find out more in the NCW part of the events section.
++++++++++
3. A Favourite Recipe
== Lemon Drizzle cupcakes
Cupcake Ingredients
2 eggs at room temperature
175g self-raising flour
175g caster sugar
100g soft margarine (Stork)
1 teaspoon baking powder
finely grated zest of 1 lemon
4 tablespoons milk

For the crunchy topping:
100g granulated sugar
juice of 1 lemon

Method
1. Beat together 100g soft margarine, 2 eggs, 175g flour, 175g caster sugar, 4 tablespoons milk, 1 teaspoon baking powder and the zest of 1 lemon until smooth.
2. Using an ice cream scoop place the batter into the cake cases.
3. Set the oven to 180 °C or gas mark 4. Bake for about 30 minutes until golden brown and bounce back.
4. Place the cakes onto a wire rack to cool.
5. Whilst the cakes are cooling, make the topping by mixing together 100g granulated sugar and juice of 1 lemon.
6. Leave the cupcakes on the rack and spoon the topping over them.
7. Leave to cool before eating.
8. Enjoy!
"The cupcakes were really tasty and were an exciting thing to cook. I would suggest that you make the topping while the cakes are cooking so that you are not stressed as they cool very quickly. Just remember to stir the topping before you put it on the cakes" – By Theo
If you would like to read this recipe on a braille display or notetaker, you can download a document containing only the recipe here:
https://tactiletimes.org/resources/TTNIssue5Recipe.docx
++++++++++
4. Languages
== JAWS 2022 will likely sort out many issues related with languages on Windows, when using screen readers.
If you have used multiple languages with JAWS before, you know how fiddly it is.
To switch languages you currently have to open Settings Centre and change a few settings. This is very inconvenient if you have a French lesson at school, and even more inconvenient if you have a document containing two or more languages (like a PowerPoint for a French lesson) as you can't just press a single key to change languages like on the Touch.
We don't know what exactly will change at the moment, but we know that some pretty big updates to language switching are on the way.
== How to create language profiles on a Braillenote Touch
If you need to be able to switch between languages on the Touch, then you need to create language profiles.
Press Space+O to open the Options menu.
Find the Configure language profiles option and select it.
A list of profiles will come up. Press Space until you reach Add additional language profile, then select it.
It will prompt you for a profile name. I normally enter the name of the language or braille grade.
A configuration options screen will appear. The important setting to change here is Literary braille table. You need to change it to your chosen language. Unless you want contracted braille in that language, you need to change this to that language's Grade 1 braille table. You might need to play around with the setting until something works if the options are not clear.
You can also change the voice if you will be using speech with this language profile.
You are now done, press Space+E to exit.
You can now press Enter+L to quickly switch profiles.
== Did you know you can have several braille tables on iOS?
You can add several braille tables to VoiceOver and switch between them using the rotor. This is helpful if you regularly read content in another language (for example during a Duolingo lesson).
You can quickly add more braille tables in VoiceOver settings.
Just go to Settings > Accessibility > VoiceOver > Braille and select the braille tables option to get started.
++++++++++
5. Music
== How I compose music
As well as playing the piano and learning braille music, another skill I'm learning is composition. It's good practice especially for a levels.
MuseScore
MuseScore helps me write out notes so others can see them. It is an application you can download on the laptop with the screen reader NVDA. The notes are typed just like the letters on the laptop whilst the numbers represent the value of notes. There are also some places which you can go into that write in things like dynamics and articulation.
Overall I've found MuseScore really helpful even though it may freeze from time to time. It's good to be able to transfer between the piano and the laptop inputting notes into MuseScore. I hope to improve a lot more with MuseScore in the future so I can add lots of new touches to my pieces, like lots of trills for decoration.
Written by Lexy Ryan
Related links
MuseScore download: https://musescore.org/en/download
NVDA download: https://www.nvaccess.org/download/
== Recordings of Tactile Times readers performing Music
Coming Soon
We plan to add these to the resources page of our website at https://tactiletimes.org/resources in the next couple of weeks so check back then!
++++++++++
6. Technology
== How to add a Gmail account to KeyMail on a Braillenote Touch +
It is now a quick process to set up a Gmail or Google Workspace email account on the KeyMail app on a Touch +. You don't even need to change your security settings to allow less secure apps anymore.
Steps:
Open the KeyMail app from the Main Menu by pressing E until you find email and then press enter.
Select the Add account option from the KeyMail menu. If this is the first account you are adding you can skip this step.
Enter your Gmail or Google Workspace email address in the Email box and click Next.
Select the Sign in with Google button and sign in to your Google account in the normal way.
Configure the options on the account setup screen and finish the process. Your emails will begin to arrive.
You can set up other accounts too, but the process is a little more complicated. You will need to enter your password for authentication and may need to enter configuration settings from your account provider's website.
You can also set up Gmail accounts on the old BrailleNote Touch and even on the BrailleNote Apex, but it can turn into a long process to get all the settings right.
== How to connect to a WiFi network on a Braillenote Touch +
WiFi connectivity is a vital component of the Touch + and it is important to be able to search for and connect to WiFi networks yourself.
First of all, you need to open the WiFi menu. To do this:
• Press Space+O to open the Options menu.
• Press the letter A until you reach Android system settings, then press Enter.
• Press space until you see Network and internet, and then press Enter
• Press space ntil you find the WiFi option and click on it.
Once you are in the WiFi settings menu you can join and forget networks and change your preferences. To join a network, press Enter on it. Enter the security information for the network if needed (e.g. password) and then click Connect.
If the network has a login page, you will see a notification. Press Enter+N to open the notification centre and then find the Android System. Sign in to WiFi notification. You can click on this to launch the login page.
You can view all saved networks from the saved networks option at the bottom of the WiFi menu. You can also quickly view connection status by pressing Enter+Dots 3 and 4 at any time.
== Humanware's new Brailliant BI 40X
I have recently got a new Brailliant BI 40X braille display. It's quite exciting, as it's the most advanced braille display there is right now. A full review will follow in a later issue, but here are some things that readers might find useful to know sooner.
The commands are quite similar to the Braillenote Touch commands. So, if you know your way around the Touch, then you will be able to quickly familiarize yourself with the menus and options available.
There is an editor which you can use to write quick notes in Plain text format. This is useful if you need to start writing quickly – eg at the beginning of a lesson if your computer is not set up yet. You can then copy these notes to your computer.
The calculator is computer braille only so it's not worth using, as there is no point learning Maths in computer braille just to use a calculator.
Most useful to know is that there is bug when you try and add your phone as a Bluetooth device. The connection is currently very unreliable. But, thanks to the Brailliant BI X users list, I discovered that you have to turn WiFi off on the Brailliant to have a reliable Bluetooth connection.
There is another update coming out soon so hopefully this workaround will no longer be needed, but here are the steps to turn WiFi off:
1. Press space+O to open the Options menu.
2. Press w for WiFi and then press enter.
3. Press space until "wifi on" appears and press enter.
4. It should now say wifi off.
WiFi is needed for updates and online books, but you can always turn it on if you need it.
Written by Theo
++++++++++
7. Sports
== Review - Goalball UK Summer Camp
I attended a Goallall UK camp at the end of July, and I really enjoyed it. Here are some things which were great, and some things which could have been better.
Things I enjoyed:
• Improving my Goalball skills - Having a few days focused on goalball helped me to improve my technique.
• Playing goalball with children from all around the country
• Getting lots of practice at penalties and how best to defend them.
Things which could be better:
• You could sometimes hear a goalball in the sports hall next door which was distracting during a game.
• No reliable WiFi - The WiFi in the hotel was very unreliable and the 4G signal and speed was also poor. There was good WiFi in the sports hall but no phones were allowed during the day so there was not much time where a reliable internet connection was possible.
== Top tips when attending a Goalball UK Summer camp
Here are some top tips that will help you have the best time.
• Bring lots of water - Playing goalball is very thirsty work, particularly in a hot sports hall. You may only be able to refill your water bottle at certain times of day, so make sure you fill it up in the morning where you are staying.
• Bring your own snacks - The food which was provided was good, but no snacks were provided in between meals. It was recommended that you should bring your own snacks, and eating some snacks during the small breaks helped keep me going.
• Bring the right kit - Playing goalball for 5 hours or more per day in the wrong kit is quite uncomfortable. Make sure that you have the correct kit so that you can be comfortable during the day.
• Bring a towel - Towels were provided at the hotel, but not in the changing rooms. If you would like to be able to shower when you change, you will need to bring a towel with from your room or pack one before you leave.
== Strava club
The Tactile Times now runs a Strava club for anyone who is interested in joining.
The club provides a way to share activities, encourage each other, receive important updates directly via Strava and more.
To join or find out more visit https://strava.com/clubs/tactiletimes
== Fantasy Football league
If you like football you might be interested in joining an online Fantasy Football league which we have set up for Tactile Times readers., You will need to set up your own team for this year's Premier league if you would like to join.
You can do this using a free, accessible app and website. To join the Tactile Times league you will need to visit the link below and click the league invite link displayed under the registration heading:
https://tactiletimes.org/ttnfpl
For more details about this league visit the link above or get in touch.
++++++++++
8. Jokes
What did one hat say to another? Stay here! I'm going on ahead.
Why did the maths book look so sad? Because of all its problems.
Did you hear about the kidnapping at school? It's OK, he woke up.
Did you hear about the actor who fell through the floorboards? He was just going through a stage.
What did one toilet say to the other? You look a bit flushed.
++++++++++
9. Games
== Hangman
We have an accessible Hangman game that can be played in any web browser. We are still improving it so please do get in touch with suggestions or ideas. The game is available on our new games website at: https://games.tactiletimes.org or via the link on our homepage.
== Escape Room
We now have an accessible online escape room on our Games website for you to have a go at. It is made for people using a screen reader on a phone, iPad, computer, tablet or other device.
The escape room contains several puzzles which you will need to complete before you can escape. The system will remember your progress so you can leave and come back later at any time. Once you have escaped you will get access to a special success page which can only be viewed after escaping.
You can get started by tackling the first puzzle here:
https://games.tactiletimes.org/escape-room/
== C-race
This is a game using a Perkins brailler where the aim is to see how quickly you can do a line of c's across a portrait page of A4 (32 braille cells). You do three attempts and take an average of your time. The current record is 6.4 seconds. If you beat the record, send your time in and you will become the champion… Until someone beats you!
You can find an up-to-date leaderboard and more details here: https://games.tactiletimes.org/crace.html
== Try out our Chatbot!
We are experimenting with how useful a chatbot could be in providing help and advice.
Our chatbot currently only understands a limited amount of questions about different areas of our website, and we need some people to help try it out!
You can go to
https://games.tactiletimes.org/chatbot.html
to try it out.
Try asking questions such as How can I subscribe?, How can I view issues?, Where can I find your blog?, etc…
++++++++++
10. Upcoming events
So, what's coming up over the next month or two? We have had a look, so you don't have to!
Believe it or not, quite a few of these events are not even advertised on the web, apart from in the Tactile Times!
== LOOK UK
• Online Music Forum, 22/9 and then ongoing every other Wednesday from 6pm.
LOOK's music forums are aimed at all visually impaired young people aged under 18, plus any family members who want to join in.
Musicians and LOOK volunteer Mentors host these sessions, which offer a chance for like-minded music fans to talk, play and share all things music.
• Building Confidence in Social Situations, 27/9 – 30/9
LOOK will share a range of videos, audio recordings and blogs created by LOOK mentors on how to find the confidence to engage in social situations. The week will culminate in a live Q&A event on Facebook featuring a panel of guests, including LOOK mentors.
For more information on the two events above, contact: [email protected]
• Studying Languages, 30/9
LOOK are holding a modern languages Q&A session on Zoom, on 30th September, 6pm to 7.30pm.
LOOK Mentors who have studied modern languages at A Level and Degree level will answer questions and share ideas on: resources, study skills, tech that helps with this area of study, and travel.
To attend you should email Ruth on: [email protected]
== The Braillists Foundation
They run lots of good braille related events through the year. They have an excellent, and easy to navigate website: www.braillists.org which has the details.
The Braille Bar (a sort of braille clinic) is now back after a summer break, and will take place on the second and fourth Tuesday of every month, at 7:30pm.
Regular events and masterclasses are also back, and will run on the first and third Tuesday of every month, at 7:30pm.
For all the latest goings on in the world of braille, you can also sign up for their newsletter via the form on the following link: www.braillists.org/newsletter/signup/
You can find past recordings of their podcast on their website, or via any podcast supplier, or on the following link: www.braillecast.com. Episodes from June and July include: 'An Introduction to Grade 3,' and 'JAWS and Braille: A Closer Look,' and, 'Braille Music: Let's Tackle the Basics.'
You can contact them on [email protected]
== Sight and Sound
Sight and Sound have a 'Social Hub,' and 'Webinar Wednesdays.' In future, each of these will be monthly, so there will be something every 2 weeks.
To register to receive emails about Sight and Sounds' upcoming webinars, you can click on the following link: https://sightandsoundtechnology.us7.list-manage.com/subscribe?u=967baeca2666e923876de6b3c&id=a2cb8c674a
'Find Your Way to Work', 23/9
The next Sight and Sound webinar will be on Thursday 23 September at 11:30. It's the first in a series of sessions on employment for blind and low vision people. In this session, the Royal National Institute of Blind People (RNIB) and the National Council for the Blind of Ireland (NCBI) will be talking listeners through information and services for job seekers.
All the previous Sight and Sound videos and podcasts are on: www.sightandsound.co.uk/media and they are definitely worth looking at. Recent programmes covered:
-
'WeWalk' (the new 'smart cane' and iOS and Android app)
-
Focus Braille displays and Pearl Camera
-
NaviBelt, and UltraCane (more new 'smart' navigation aids)
== HumanWare
Through much of 2020, HumanWare were organising webinars on their technology. These have stopped in 2021, but you can still find most of the older ones on You Tube. Check them out on this link: https://www.youtube.com/playlist?list=PLDWfRB9hDxLNiQC_dkmreT47gcgLrakMI
Humanware have been busy bringing out new tech. Their new 40 cell braille display, the Brailliant BI 40X braille display, which can do lots more things, has just been made available for purchase now. You can find an article about it in the tech section.
Contact them on [email protected] or 01933 415800
== The Royal National Institute of Blind People (RNIB)
The RNIB have been running 'Shape and Share' events, which are mostly for younger children. But they do have some coming up which are more for school age children.
3 October, 10:30am – 12pm, 'The Wacky Science Warehouse.' This event says that you should 'Come and meet our mad scientists and have some great family fun learning how to do some crazy experiments…'
See more details on the following link: https://www.rnib.org.uk/information-everyday-living-family-friends-and-carers/activities-and-family-events
RNIB have also teamed up with the consultancy 'Blind Ambition' to offer seminars over the next 6 months.
-
Looking for work webinar: Your Legal Rights, 21/9, 7:30pm – 8:30pm
-
Access to Work, 5/10, 7:30pm to 8:30pm
-
How to find a support worker, 19/10, 7:30pm – 8:30pm
== Vocal Eyes
Vocal Eyes has a mission to: 'Bring theatre, museums, galleries and heritage sites to life for blind and visually impaired people.' They organise audio description, and sometimes touch tours too (though sadly still no touch tours at present). And they send out a weekly newsletter, which has a listing of accessible online arts and culture.
The next audio described performances are:
-
Romeo and Juliet, at the Globe Theatre, 18/9
-
The Lion King, at the Lyceum Theatre, 19/9
-
Search Party, at the Donmar Warehouse, 21/9 – 25/9
You can see more details on: https://vocaleyes.co.uk/whats-on-online-16th-september-2021/
== Sight Village
Sight Village, is where you can generally get to know about, and get your hands on, the latest blind specific and low vision technology.
The next upcoming Sight Village event is:
Wales 12th October 2021 - All Nations Centre, Cardiff
Pre-registration is required for Covid reasons. You can do this here: https://www.eventbrite.co.uk/e/sight-village-wales-2021-tickets-143302281983
== New College Worcester
NCW have a 'family day' coming up on 9 October. These are like open days, and the school put on a range of activities for all ages, and for all family members.
There's also a 'Blindfold Dining Experience' on 4 November.
And, amazingly, NCW are already advertising their next Summer Activity Break, a residential experience aimed at 11 – 16 year olds, which is planned for 26 – 28 July 2022.
Find out more about the events above and register for them here: https://www.ncw.co.uk/event-directory/
== British Blind Sport (BBS)
St Pauls Community Sports Academy, Newfoundland Rd, St Pauls, Bristol, BS2 9NH. You can register at: https://britishblindsport.org.uk/bristol-have-a-go-day/
British Blind Sport are still organising their 'Active at Home Days.' It's a live workout for the first week of every month, with a different exercise class each night of the week at 6pm.
There are more details on: https://britishblindsport.org.uk/the-active-at-home-programme/
== VICTA
You can register your interest now for the following:
Find out more and register your interest on their activity calendar:
https://www.victa.org.uk/our-services/activity-calendar/
== Blind in Business
Blind in Business have started up a new round of their 'Building Prospects' careers workshops.
Dates and times will be arranged depending on demand and availability, and can be lunchtimes, after school, free periods etc....
The workshops are open to all. If you're interested, contact Blind in Business to find out more: [email protected]
++++++++++
11. Craft
As the evenings get darker and you maybe find yourself indoors a bit more, how about having a go at drawing using a Perkins Brailler?
Maybe you thought a Perkins was just for writing and maths? Not at all! The only limit is your imagination. To get you started we have included a set of instructions that you can follow, using a Perkins brailler and landscape A4 or large size braille paper to make a really cool braille picture of a Jack-o-lantern. Just in time for Halloween!
You could try brailling the picture onto A4 orange card and then cutting it out and sticking it onto contrasting black card to make a fantastic feeling and looking Halloween card for a friend or family member.
If Halloween is not your thing, here is a link to instructions for a Braille Birthday cake picture too.
== Instructions for a Braille Jack-O-Lantern Picture
Row 1: Space 17 times, make 2 full cells, make "q"
Row 2: Space 17 times, make "er", make full cell, make question mark
Row 3: Space 17 times, make cell (4, 5), make 2 full cells, make question mark
Row 4: Space 7 times, make "simple close quote", make "with", make 3 full cells, make "of", make question mark, Space 1 time, make "simple close quote", make "with", make 6 full cells, make "of", make question mark, Space 1 time, make "simple close quote", make "with", make 3 full cells, make "of", make question mark
Row 5: Space 6 times, make "with", make 6 full cells, make "of", make "with", make 10 full cells, make "of", make "with", make 6 full cells, make "of"
Row 6: Space 5 times, make "with", make 28 full cells, make "of" Row 7: Space 4 times, make "with", make 30 full cells, make "of"
Row 8: Space 3 times, make cell (4,5,6,), make 8 full cells, make "f", Space 2 time, make "d", make 8 full cells, make "f", Space 2 time, make "d", make 8 full cells, make letter "l"
Row 9: Space 3 times, make "with" make 8 full cells, Space 1 time, make "simple close quote", make question mark, Space 1 time, make 8 full cells, Space 1 time, make "simple close quote", make question mark, Space 1 time, make 8 full cells make "of"
Row 10: Space 3 times, make 9 full cells, make question mark, make 2 full cells, make "simple close quote", make 2 full cells, make "q", Space 1 time, make "er", make 3 full cells, make question mark, make 2 full cells, make "simple close quote", make 9 full cells
Row 11: Space 3 times, make 14 full cells, make "q", Space 3 times, make "er", make 15 full cells
Row 12: Space 3 times, make "er", make 12 full cells, make "q", Space 5 times, make "er", make 13 full cells, make "q"
Row 13: Space 4 times, make "er", make 3 full cells, make "q", Space 1 time, make "er", make 17 full cells, make "q", Space 1 times, make "er", make 4 full cells, make "q"
Row 14: Space 5 times, make "er", make 3 full cells, make "of", Space 2 times, make "d", make "er", make 12 full cells, make "q", make "f", Space 2 times, make "with", make 3 full cells, make "q"
Row 15: Space 6 times, make "er", make 3 full cells, make "of", make question mark, Space 8 times, make 3 " gg", Space 5 times, make "simple close quote", make "with", make 3 full cells, make "q"
Row 16: Space 7 times, make "er", make 24 full cells, make "q"
Row 17: Space 8 times, make "d", make "er", make 4 full cells, make "q", make "f", make "d", make "er", make 4 full cells, make "q", make "f", make "d", make "er", make 4 full cells, make "q", make "f"
Looks like this ( Unlikely to read out very well on a screenreader! But included in case you want to give a sighted person a peek at what you are planning to create)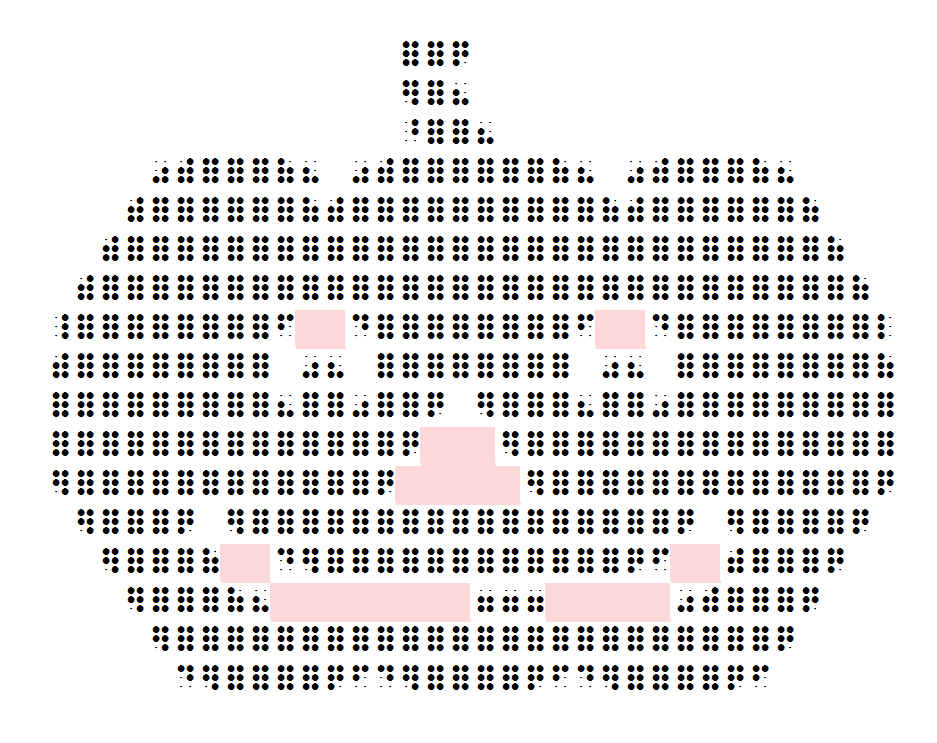 ++++++++++
12. Get in touch and website
If you would like to send in a short article, joke or game, or if you have not subscribed yet and would like to subscribe, please do get in touch using the details below.
Email: [email protected]
Website: tactiletimes.org
++++++++++
This is the end of Tactile Times Issue 5
We hoped you enjoyed reading the Tactile Times!
If you would like more issues like this delivered straight to your inbox, why not subscribe for free on our website?
Tap below to return to the top of the issue.
Copyright notice
The material in this publication should not be reproduced unless in full (including this notice) without prior consent.
Please note: This does not stop you sharing this file with friends, but just don't copy/paste bits out for other purposes without checking with us first.
© Copyright 2021 Tactile Times